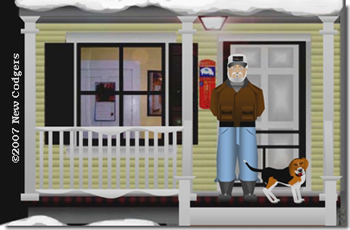 Never mind the graphic, I'm enjoying my "Danger Bay Collectible Mug" of organically and shade-grown, fair-trade, French-Roast coffee in the warmth of our office! While -8ºF was predicted for this morning, my Pruett's Pig Powders replica thermometer indicates 0ºF—still too cold for coffee on the back porch—I'm not all that fond of iced coffee.
This weekend will be dedicated to putting up the Christmas tree, keeping warm, the obligatory house cleaning, keeping warm, napping, keeping warm, petting Daisy, keeping warm, and finally conjuring up a few more graphics for "Danger Bay."
The cheesy stories are easy to write, so I always seem to get ahead of my drawings waaay too quickly! So—in an effort to catch up—parts of today & Sunday must be dedicated to that effort.
So, if you'll excuse me, I'll return to the drawing-board. I'll leave you with this photo of one of five electric candles gracing my front porch, decorated by our recent snows.